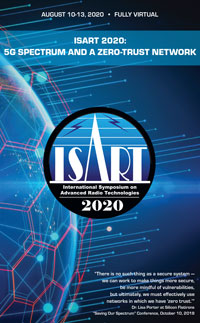 ISART 2020 • 5G Spectrum and a Zero-Trust Network
Future wireless systems (5G and beyond) will offer major economic benefit to countries and companies that can deploy those networks and services reliably, quickly, and securely. Spectrum — the foundation for much of 5G — presents unique security challenges, in addition to a multitude of technical, economic, regulatory, and political challenges. While spectrum security historically focused on jamming, spoofing, and interference, the time has come for governments, industry, and academia to re-examine what spectrum security means. ISART 2020 focused on what a "zero-trust" network environment means from a 5G spectrum perspective, identifying the challenges for spectrum to be available, reliable, assured, and secure in a no-trust environment; exploring potential technical solutions; and identifying research areas that facilitate securing spectrum for rapid adoption of assured 5G networks. The fully virtualized symposium format included tutorials, panel discussions, technical presentations, and virtual breakout rooms that provided opportunity for the discussion and networking that has always been a hallmark of ISART.
A written transcript of the conference has been published as ISART 2020: Proceedings of the 18th International Symposium on Advanced Radio Technologies —5G Spectrum and a Zero Trust Network. The full video archive is available in the ISART 2020 YouTube playlist on the NTIAgov channel. 
Click on a title or speaker to access the presentation where available.
Monday, August 10, 2020
Tutorials: Setting a Baseline
Tutorials on the current state of 5G are intended to set a common baseline for the discussions to follow..
Welcome and Opening Remarks

Sheryl Genco, Director of NTIA/ITS

Setting the Stage
A discussion among key leaders from the co-hosts—NTIA, NIST, and the University of Colorado—who will set the stage for the panels and discussions that follow.


Doug Kinkoph, Associate Administrator, Office of Telecommunications and Information Applications, performing the non-exclusive functions and duties of the Assistant Secretary of Commerce for Communications and Information, NTIA
Walt Copan, Under Secretary of Commerce for Standards and Technology and Director, NIST
Terri Fiez, Vice Chancellor for Research & Innovation, University of Colorado Boulder

Keynote Address

Joseph B. Evans, Technical Director for 5G, Office of the Secretary of Defense
Tuesday, August 11, 2020
Opening Panel: Framing Zero-Trust Today
A deep dive into what zero-trust means within the spectrum world and the known risks that exist today at the intersection of 5G NR (New Radio) and zero-trust networks. Recognizing and naming the risks and vulnerabilities extant in the radio layer is crucial to identifying areas for research and developing solutions to better secure the spectrum relied upon for 5G services.

Bryan Tramont, Wilkinson Barker Knauer LLP, Moderator
Anna Gomez, Wiley Rein LLP
Lisa Porter, former Deputy Under Secretary of Defense for Research and Engineering
Charla Rath, Commerce Spectrum Management Advisory Committee Co-chair
Henning Schulzrinne, Columbia University
William Webb, University of Cambridge

Technical Presentation — O-RAN
a deep-dive into the current state of open radio access networks.
Panel 1: 5G Design — Resiliency at the Radio Layer 
A look at design mechanisms and ideas, such as RF filtering, new antenna technologies, closed loop systems, and other ways to design the 5G radio layer for resilient services.
Wednesday, August 12, 2020
Panel 3: 5G Monitoring and Data Collection — The Feedback Loops
An exploration of options for effective and efficient spectrum monitoring and obtaining usable data. Monitoring and data is the nexus of the feedback loop among design, deployment, and operations—and key to securing the 5G radio layer.
Thursday, August 13, 2020
Technical Presentation: Spectrum Coliseum Competition
A technical presentation by John Shea, a member of the University of Florida GatorWings team, winners of the recent DARPA Spectrum Coliseum Challenge competition. Dynamic Spectrum Sharing: Lessons from the DARPA Spectrum Collaboration Challenge.
Panel 4: 5G Operations — Implementing Resilient Zero-Trust Networks
An examination of operations and implementing resiliency within a network's operations.

Paul Zablocky, DARPA, Moderator
Tim Godfrey, Electric Power Research Institute, Perspectives on Spectrum and Resilient Communication for the Grid
Milo Medin, Google
Wayne Phoel, University of Maryland, Some Thoughts on Zero Trust, Resilience, and 5G…
Sanyogita Shamsunder, Verizon, Mission Critical 5G Using Zero Trust Architecture

Panel 5: Wrap-up — Bringing it All Together
The wrap-up panel on brought together polymaths to help draw new insights and connections, identify potential new research areas, and hopefully add to the history of ISART triggering important out-of-the-box thinking, innovative ideas, and novel solutions

Pierre de Vries, Silicon Flatirons, Moderator
Paul Kolodzy, Kolodzy Consulting
Blair Levin, Brookings Institute
Doug Sicker, University of Colorado Boulder
David Tennenhouse, VMware